※Registration for the symposium is not accepted at this time.
ISPACOS hopes to achieve patient-centered oncology science world-wide. Toward this end, ISPACOS organizes symposia twice a year having speakers who are patients, their family members and their supporters, medical professionals, government officers, and employees of health care industries.
ISPACOS symposia expect audience who are providers and recipients of cancer care, who are together with them, and who are interested in this subject. The goal of ISPACOS will be reached through tight connections and communications of all these stakeholders. Please join us.
List of symposia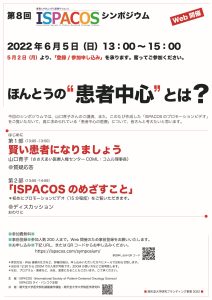 2022-05-10
This meeting has finished. Thank you for attending! *The Symposium will be held online with Zoo […]