The 6th ISPACOS Symposium
This meeting has finished. Thank you for attending!
The 6th ISPACOS Symposium focuses on Medical Records, which in Japan is known as a "Karte" a German word for paper. It is a comprehensive records provided by physicians and other medical staffs. It includes patients' own descriptions of the symptoms, laboratory data, and imaging data. Physician also describes about the interpretation of available data, the diagnosis, the treatment options informed to the patients. How the patient is asked to make a choice among all options, the final choice by the patient, and the clinical outcomes are essential part of the medical records. Thus, the medical record should also be considered as an essential part of the history of personal health.

*The Symposium will be held online with Zoom application.
*Sunday, June 13 2021 13:00-15:00 (JST)
Who owns the medical records? -The present and future of countries-
Who owns the medical records of patients, and how?
Are the medical data handed over when you consult another doctor?
Can the patients check their medical records whenever they want?
You learn how countries manage the medical records now and envision future ones through general discussion.
I. How countries manage medical records now? 13:00-14:10
Chairpersons: IRIMURA Tatsuro (Juntendo University / MATSUDA Nanami (Juntendo University)
Sweden: MIYAKAWA Ayako (Karolinska University Hospital)
Thailand: NORITAKE Jun (Bangkok Hospital)
Cambodia: OKAWADA Manabu (Sunrise Japan Hospital)
China: ZHANG Yan (Shanghai Jiao Tong University)
Japan: MEMEZAWA Hajime (Tokyo Medical Association)
---
II. General discussion: future medical records 14:15-15:00
Chairpersons: SAITO Mitsue (Juntendo University) / MEMEZAWA Hajime (Tokyo Medical Association)
Speakers of the first session and ISPACOS members
■Admission free
■The number of participants will be limited to 200 people.
---
*More details, such as connecting and joining this online symposium, will be sent to those who have pre-registered by email later.
*Please note that the speakers and the program might be changed on the day of the event if needed.
---
Organizer: ISPACOS (International Society of Patient-Centered Oncology Science)
Co-sponsored by: Juntendo University School of Medicine, Department of Breast Oncology Breast Oncology Course Juntendo University Graduate School of Medicine
---
---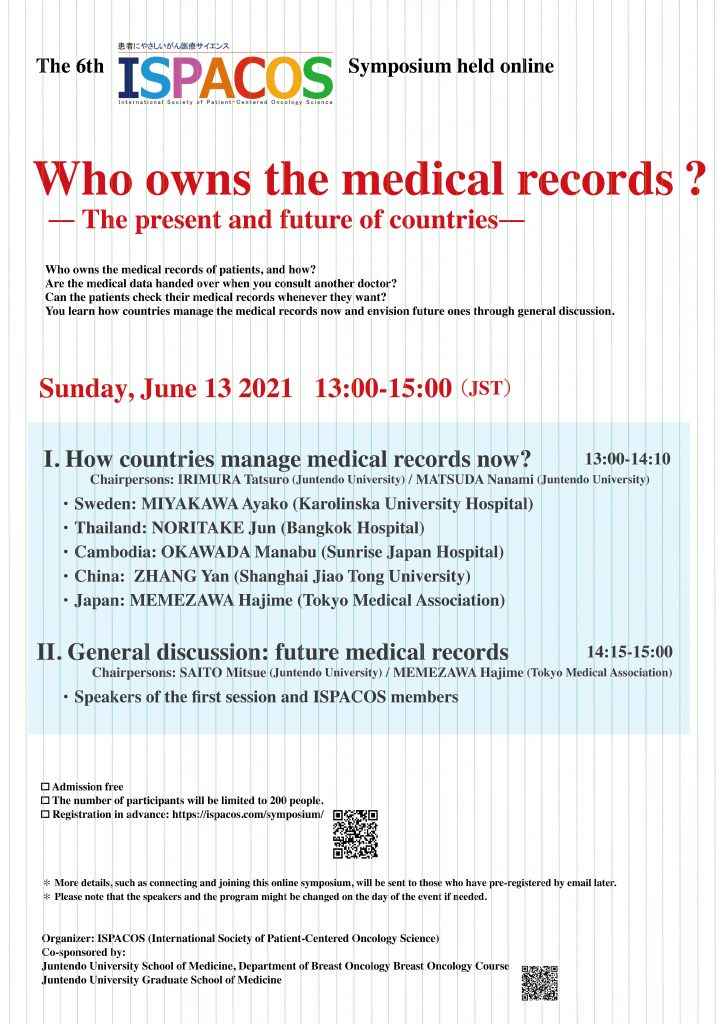 ---
---